About Us
Partnership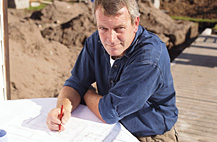 Construction is a partnership of professionals working together to produce an outstanding project that exceeds expectations. You rely on an architect, an engineer, and subcontractors, all of whom offer their expertise and bring important points of view to the table. Mead Clark is another vital partner in every step of your construction project.
We are dedicated to offering the best product or service for the job, every time. Our staff's decades of experience and ongoing training mean that we are able to deliver expert consultation to support our products and services and provide value second to none in the industry.
In recent years we have recognized your need for Mead Clark's level of quality and customer service in a variety of professional services that make your job easier. As a result, we offer:
A professional quality Door Shop featuring pre-hung doors, closet packages and hardware. Our Window and Door Department provides free estimates, plan take offs, jobsite consultations and competitive pricing, these are just some of the benefits of buying your Windows and Doors from Mead Clark.
A fleet of delivery trucks that delivers all over the North Bay and directly to your job site.
Custom millwork, including custom-cut lumber packages, custom re-sawing and custom-cut corbels.
An Engineered Wood Department, providing plan take-offs, design, layout and drawings for your residential or commercial project.
When Mead Clark is your construction partner, you have a resource that brings decades of expertise, access to the best tools and supplies for the job and a commitment to getting it done right.