Did you know?
Since 1912, homeowners, do-it-yourselfers, and contractors have all shopped at Mead Clark Lumber. You can, too!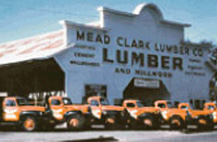 History
Throughout its 110-year history Mead Clark Lumber has weathered the ups and downs of a highly competitive local marketplace. As a vital resource for the growing and evolving communities of Northern California, Mead Clark has grown alongside its clientele, changing and expanding to ensure that it stays in lockstep with the demands of the modern professional. By anticipating the needs of the market and committing to provide only top-quality lumber, tools, hardware, building products and services, all with superior customer service, Mead Clark has spent a century creating its unshakable reputation as the premier building supply company in the North Bay.
In 1912, entrepreneur Mead Clark opened the modern lumberyard on four acres in the heart of Santa Rosa at Third and Wilson streets. He sold pre-cut lengths of redwood that were cut and milled along the Russian River and delivered to the lumberyard by train.
In 1920, Clark hired salesman and estimator Eli Destruel, and in 1944, Destruel bought the business. A third generation family business, Mead Clark Lumber has been owned by the Destruel family since then. Eli's son Dusty took over the business in 1975 and has been an important voice in the local building industry for many years.
Today, Dusty's sons, Kevin and Randy, along with more than 100 employees work together to deliver the expertise, integrity, and quality products and services that Northern Californians have relied on through the generations as they have built their homes and businesses.
Years of experience and ongoing training allow Mead Clark's staff to offer expert consultation to support our products and services, resulting in added value second to none in the industry.
©2020 Mead Clark Lumber Company. All Rights Reserved.