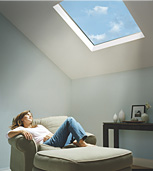 WINDOW & DOOR
MANUFACTURE'S LINKS
Products & Services
Door and Window Department
Mead Clark's Window and Door Department provides both professionals and discerning homeowners with numerous value-added services. Our specialists offer the highest level of personalized customer assistance and are fully trained in blueprint take-offs and estimating. Plus, we're well versed in the needs of the do-it-yourselfer, and can help find the right solution for every need.
Whether you're a professional or a homeowner, we'll go out to your jobsite or home and provide valuable advice to you and your customers. We'll help measure rough openings and confirm installation procedures. Our years of experience can help you identify areas or items you may have overlooked, and we do everything possible to ensure correct product specifications and ordering accuracy.
The Showroom
With over 75 full-sized, working windows and doors, Mead Clark's Window and Door Showroom offers a unique opportunity to visualize the products installed. The showroom is meant to inspire and guide you in your selection of doors and windows in order to match your project's end result with your budget.
When you visit our Showroom you'll discover windows and doors in wood, aluminum, vinyl, wood clad and fiberglass. Our staff can help in choosing custom designs, shapes and sizes with decorative glass, in multiple wood species and finishes' and we're constantly updating our displays with the most innovative materials, designs and technologies available anywhere.
Plus, you'll find more than doors and windows. Shop Mead Clark for skylights, distinctive hardware, locksets, hinges, stair parts, trims, columns and shutters. We also have hundreds of catalogs with additional windows, doors and building products, all priced competitively to meet your needs.
We invite you and your customers to visit the showroom at Mead Clark Lumber. We are open and fully staffed seven days a week!
Download Marvin Windows and Doors Catalogs here: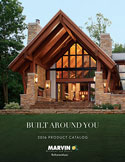 Product Catalog 116 pages 42 MB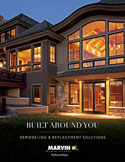 Remodeling & Replacement Solutions Catalog 68 pages 30 MB

Contemporary Catalog 24 pages 50 MB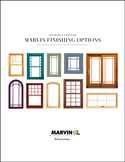 Marvin Finishing Options 16 pages 38 MB
Ultimate Double Hung Windows 24 pages 3.5 MB
View our Mead Clark television
commercials using Windows Media Player: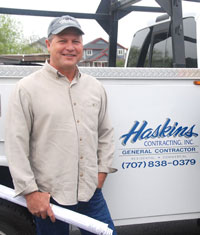 Patrick Haskins
Haskins Contracting, Inc.
"I like working with Mead Clark because I can depend on their professional and experienced staff and reliable service. The Mead Clark employees who have contributed in a p­ositive way to my success are:
Alison Thomas, Window & Door Sales - She has always been knowledgeable and friendly in helping my clients in choosing the right windows and doors.
Working with Mead Clark has helped me serve my clients better by offering a large selection of high quality products. They understand and respect the contractor-client relationship and are always willing to help both in the building process.
I had four things in mind when I started my business 33 years ago; giving my clients high quality products that last, ­building a business with integrity, dependability and performance. These are things I feel Mead Clark and I have in common.
In my opinion Mead Clark has been in business for 100 years because they have a service oriented staff that works to help their customers. They are always upgrading and expanding departments to meet the current needs of their contractors.
Mead Clark is great at problem solving; I had a project where we needed 28' 2x12 Red Cedar planks, something that no one stocks. They were able to locate a mill in Canada to cut the trees, mill and dry the planks, and ­got them to the job site in a reasonable amount of time.
In the 33 years I've worked with Mead Clark I've never had a bad experience, Mead Clark's service is number one."

Mead Clark Customer Since 1979
Patrick Haskins - Haskins Contracting, Inc.
haskinsconstructionco@gmail.com
(707) 838-0379
CA Contractor Licence #B486050